Best ever A Level results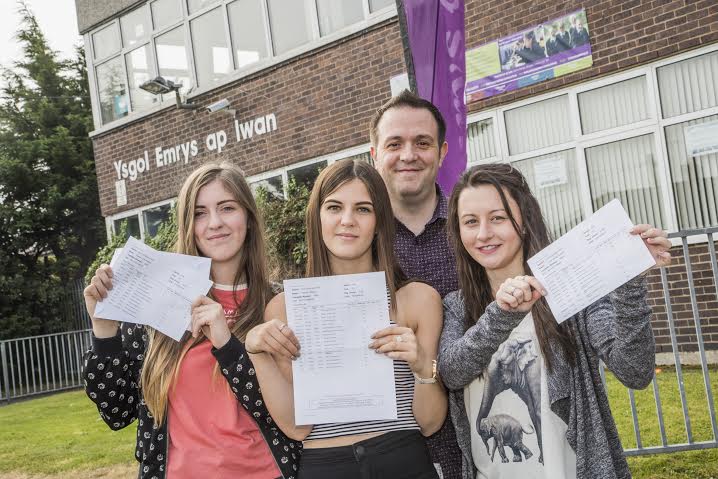 Ysgol Emrys ap Iwan is celebrating its best ever A level results, with a 100 per cent pass rate.
Sixth formers were at school bright and early to get their A and AS level results.
Lee Cummins, headteacher, said: "The students have achieved an excellent and remarkable set of A and AS Level results. In fact 100 per cent of our learners achieved two or more A level passes with many at grade A* to C.

"Learners have excelled in both traditional and vocational subjects. Their excellent performance will allow our students to continue their life-long learning journey.

"These results are another magnificent achievement for all concerned with Ysgol Emrys ap Iwan. We are delighted for all our learners.

"Our sixth form provision continues to flourish and I would like to thank all staff and parents who have tirelessly supported these young people in achieving these excellent set of results.

"They have now secured the next step on the road to even greater success and we wish every learner continued success and happiness as they move on to pursue their chosen careers and further study."

A-Level student Isabella McQuillan achieved geography A grade and two Bs in biology and history.

She said: "I'm quite pleased with my results and I'm looking forward to telling my parents and family. I'm now able to take my place at Manchester University where I'm going to study Environmental Science.

A-Level students Maisie Pepper, Hannah Mainon, and Chloe Roberts were delighted with their results.

Maisie got a A in the Welsh Baccalaureate, a B in psychology and a distinction in sport.

She said: "I'm really pleased and can now take my place at Loughborough University where I'm going to study psychology. Ysgol Emrys ap Iwan has been fantastic and the teaching staff have been superb."
Hannah was thrilled with her A in psychology, B in history and C in biology.

She said: "I'm now off to Liverpool University to study psychology. I want to eventually work in the field of adolescent mental health. I agree with Maisie, the school has been wonderful and the teachers excellent."

Chloe Roberts was pleased with her B grades in business, health and social studies, and the Welsh Baccalaureate.

Hannah's sister Chloe was also at the school to get her AS level results, and was delighted with her A level grades in history, psychology and English literature.

She said: "I'm returning to Ysgol Emrys ap Iwan next year and will complete my A-Levels in history, psychology and English Literature. I'm really happy and pleased with my results which are stepping stones towards my full A-Levels.

"I'm still undecided on the career I will pursue but I am on course to get my place in university."

Fellow AS Level student Emily Roberts scored three B grades in her AS level history, psychology and English Literature.

She said: "I'm really pleased and will be back to complete my A-Levels next year. I'm still not sure what to do career-wise but I still think I'd like to go to dance college."

There is still time to enrol on courses for 2016-17. Email Ysgol Emrys ap Iwan on info@emrysapiwan.conwy.sch.uk or visit the school on Friday, September 2nd.