Isaac lends an ear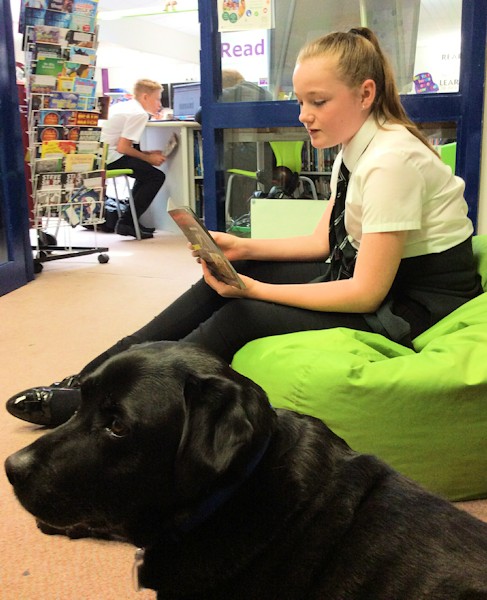 Ysgol Emrys ap Iwan have a therapy dog visiting the school to help the learners with their reading skills.
Isaac, an ex-guide dog, and his owner Derek Barker have made regular visits to the school library. There learners, who find reading stressful or difficult, read to Isaac. This relaxed atmosphere enhances literacy skills as they build a relationship with Isaac who acts as their listener. The learners then feel less self-conscious when reading.
Anne Hickey, Literacy Intervention Co-ordinator, said: "Isaac is proving a great success already and the learners look forward to seeing him each week. Throughout the sessions the learners read to Isaac which encourages their reading and increases their confidence. At the end of each session the learners give Isaac a treat."
Warren Jacobs, a Year 7 learner, said: "Reading to Isaac has made me feel more confident to read in front of the class,". Kyan Woodcock, added: "I feel comfortable reading to Isaac." Emily- Rose Hatton-Hunter commented: "It's helping me to improve my reading and understand what I am reading."
Isaac will return to Ysgol Emrys ap Iwan in September where he will continue to listen and enjoy the learners reading to him.