Uniform
Uniform outwardly shows the pride that we have in our school and it is important that learners look smart.
UNIFORM CODE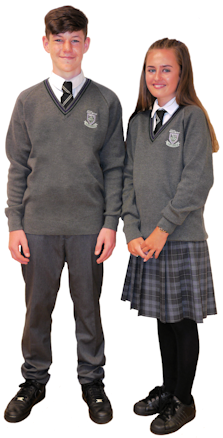 Plain grey school wear trousers or
Grey granite stitch-down knife-pleat skirt *
Grey knitted V neck jumper with green and purple stripe on the neck and school badge *
White collared school wear shirt/blouse which buttons to the neck
School tie worn correctly (to the neck) *
Plain black accessories such as belts and hair bands
Tights - black or grey
Socks - black, grey or white
Smart black shoes that can be polished and that support and protect the feet

* specific to uniform suppliers
UNIFORM SUPPLIERS
Jean Emporium Schoolwear
15 Sussex St, Rhyl. LL18 1SE Tel: 01745 360480 Email: jeanemporium@yahoo.co.uk
Boppers Schoolwear
4-6 Abergele Road, Colwyn Bay. LL29 7NN Tel: 01492 534421 Website: boppers.co.uk Email: info@boppers.co.uk

PE KIT
Learners in Years 7, 8 and 9 will need the following:
Black crew neck sweatshirt with school badge
White crew neck t-shirt or white polo shirt with school badge
A pair of one of the following - black shorts (with school badge), black tracksuit bottoms or leggings
Trainers
Learners in Years 10 and 11 who have picked PE as an option:
Grey crew neck t-shirt with school badge
Grey Hoodie with school badge
PE KIT SUPPLIER
Teejac Sports
Tel: 01248 353575 Website: teejac.com
All the above items can be viewed and ordered online directly from Teejac Sports. If the initial order is made before 30th June 2021, no delivery charge is incurred and items will be delivered directly to school and distributed by PE staff.
Any orders after this must be made by Friday 20th August 2021 to avoid costs of carriage and items delivered and distributed in September. After this point individual delivery charges will be necessary.
SCHOOL UNIFORM GRANTS
Grants available to help eligible families buy school uniform and equipment
School uniform grants are available for families on low incomes with children in primary and secondary schools. Looked after children and learners receiving free school meals can get a Welsh Government grant if they are:
entering reception class in primary school
at the start of any of the Key Stage 2 (Year 3), Key Stage 3 (Year 7) and Key Stage 4 (Year 10)
aged 4 or 11 in special schools, special needs resource bases or pupil referral units
Primary and Secondary school children are entitled to £125 for each application. Children entering Year 7 can now apply for £200 to help with the additional costs of starting secondary school. The fund will cover school uniform and sports kit, equipment for out of school hours trips, including outdoor learning, and equipment for activities within the curriculum, such as design and technology.
How to apply
Contact your local authority:

Conwy County Borough Council

Denbighshire County Council