Our motto 'Dare To Achieve' underpins everything that happens at Ysgol Emrys ap Iwan by putting learners and learning at the heart of everything we do.

Join us and be a part of our

successful Sixth Form.
WHAT WE OFFER




an experienced and dedicated tutor for every learner


support for every learner through the tutorial programme

individual subject support from experienced subject teachers

full revision support leading up to external examinations

access to a private study area complete with ICT facilities

access to a well-stocked learning resource centre

proactive and rigorous monitoring of learner attendance and work

a report on progress every term together with a Parents' Evening and a full annual report

detailed help and advice on course choice through an interview process with all applicants

strong higher education and careers guidance

individual assistance and help with the completion of UCAS applications

help with EMA, student loan and grant applications

access to many outside agencies including school based counselling and school nurse services

individual assistance and guidance with applications for employment/apprenticeships

detailed advice and support on and after examination results days for GCSE, AS and A2 courses
A WIDE RANGE OF SUBJECTS TO CHOOSE FROM
We offer an extensive range of A Level and BTEC Courses
in addition to the Welsh Baccalaureate Qualification.
We also offer Level 2 courses.
Sixth Form have their own dedicated study rooms,
IT facilities and Café area.
EXCELLENT EXAMS RESULTS
We offer an excellent standard of teaching at sixth form
level over a wide range of subjects. Group sizes tend
to be relatively small, giving greater opportunity for
individual attention.
We are extremely proud of the results achieved
by our sixth form learners.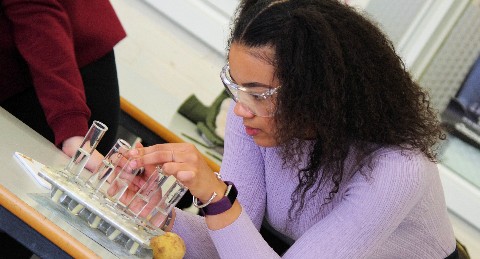 YOU'RE OUR NUMBER ONE PRIORITY
It's your life, your future, and we do everything we can
to make sure you get to where you want to be.
There's always someone available to discuss the options available to you. At every stage of your sixth form career we are here to listen, advise and support you in your choices.
Everything we offer you at Emrys Sixth is to help you stand out from the crowd and become top of your chosen field.
FULL INDUCTION PROGRAMME
Having completed your GCSE examinations and successfully applied to us, you will begin your programme of induction
which will start to prepare you for the demands of life in the
Sixth Form and beyond.
Our aim is to develop your resilience and learning behaviours to ensure you are fully prepared for life outside of school.
YOU'LL GET WHERE YOU WANT TO BE
We don't want anything to come between you and your ambitions. Every year our learners achieve outstanding sets of results and, combined with all the additional skills you'll have gained from our enrichment programmes, you can be sure of a CV or UCAS personal statement that will help you go places.
We have an exceptional success rate when it comes to getting learners into their chosen universities.